Time sure speeds along when you're busy!!
Suddenly it's the weekend & I have nothing much to report - as usual.
I haven't finished the socks-in-progress
- they spend most of their time out in the hot car as 'Car Knitting' & I haven't been waiting in the car lately so they still aren't finished. The yarn for the Dragon Cowl is sitting on my desk, next to the keyboard, so it won't get forgotten!!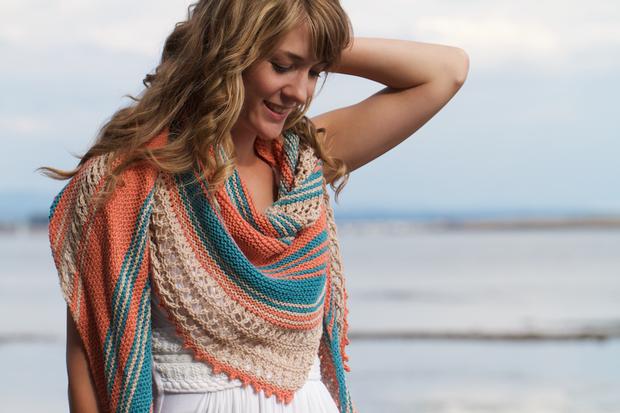 Beachcomber Shawl
I've fallen in love
with the Shawl on the front of the latest Knit Picks advertisement. It's made out of bright, summery, cotton. Crafter Cotton. You know the stuff - we all knit & crochet those big dish/wash cloths. Someone has made a summer shawl out of the stuff. I mean, how appropriate. Throw it on over a swim suit, snuggle under it on the patio, throw it over your shoulders when out in a sun dress, toss it into the wash with your shorts & undies. I think it's one of the most appealing items I've seen lately. And I'm not even a shawl person!!! I think even the cat would love this one though.
Meanwhile, back at the Office, I've been working on
sorting & adding up paperwork for another small disaster so I can file 6 years worth of taxes for a guy with a truck. I do this a lot. Small bookkeepers like me get the stuff the big Accounting offices don't want or won't do. Oh, they'll take your stuff but they'll 'get to it ' when they can . . . maybe. Mostly they contract it out. Or look at it when CRA sends the final notice. As long as I'm not rushed, I don't mind a whole lot. After all, I can work all night if I want, in my pajamas if I want & listen to the latest British detective audiobook. Last night, I ate dinner at midnight & worked until almost 5 this morning. It was quiet & peaceful until the damned crows started cawing. Last night I listened to The Chessmen. It's the third book in
The Lewis Trilogy
by Peter May. Former Detective Fin McLeod grew up on Harris where the weather is harsh & the religion even harsher. He's now divorced, become the head of security for a private estate on the Isle & ends up investigating murders peculiar to the ingrown community. An excellent series that I highly recommend.